Parent Guide: What is the Parent Portal and how can I register?
As a parent, you can find out about your child's learning on Purple Mash and support them beyond the classroom by registering with Parent Portal.
The Parent Portal is optional for school's, you will know whether the Parent Portal has been enabled if your child's login card has a Parent Code row included.
An example login card layout for a pupil with a Parent Code is below: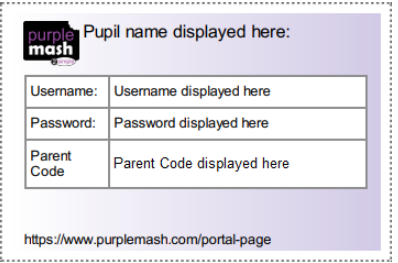 | | |
| --- | --- |
| Username | This is the username that the pupil will use to log into Purple Mash. |
| Password | This is the password that the pupil will use to log into Purple Mash. |
| Parent Code | This is your Parent Code which you will use to create your own separate Purple Mash account and then link it to the pupil. |
Signing up to the Parent Portal will create a separate account for the parent to login with and will be linked to the pupil.
The pupils own Username and Password to log into Purple Mash will remain the same.
How to sign up to the Parent Portal
If your child's school has the Parent Portal switched on you will have a parent code on your child's login card.
You can then register for the Parent Portal by following these steps:
Go to www.purplemash.com and then click Register Parent.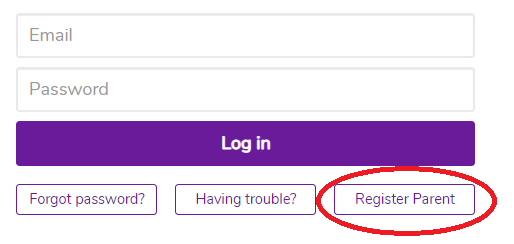 Fill in the form with your unique Parent Code, Child's First name Initial and Your email.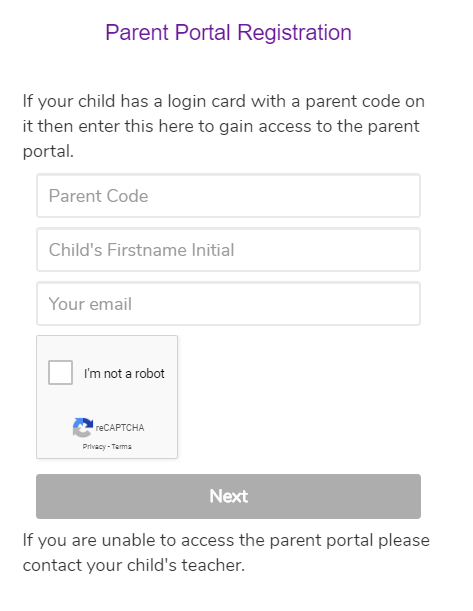 You will find your Parent Code on the login card here: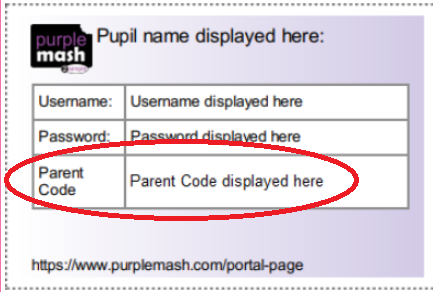 The Parent Code can be found at the bottom of the pupil's login card which should be printed out and given to the parent by the school. Parent Codes are unique for each pupil and more than one Parent can link themselves to their child in the Parent Portal with the same Parent Code.
If you are given an "Invalid parent code and child initial combination" error message then please contact your child's class teacher in the first instance to double check that your Parent Code is correct and that the pupil's first name initial is correct on the pupil's account.
Enter your First Name, Last name and create your password to login with.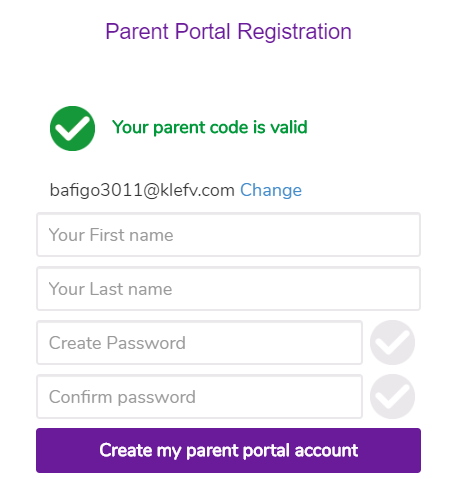 Your password must be at least 7 characters long, it must contain a number, an uppercase letter and a lower case letter.
The password created here will be the password you will use to log into your Parent Portal account.
Click Create my parent portal account
You will then receive an activation email to your registered email address for you to activate your account and access the Parent Portal.
If you are unable to receive the activation link in an email, please click the "Forgot Password" link on the school's login portal page. This will allow you to reset your password, complete your setup, and activate your account.
Multiple Children
You can link multiple children to your Parent Portal account by following the same steps above. This means you can quickly and easily switch between children in the Parent Portal area.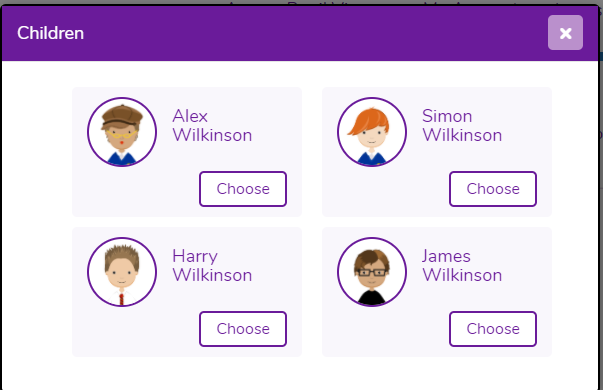 ---
---