Purple Mash via Parent Portal
As a parent, you can find out about your child's learning on Purple Mash and support them beyond the classroom by registering with Parent Portal. Parent Portal allows you to easily see the learning your child has been doing on Purple Mash, including any comments on work from teachers, homework (2Dos), rewards and so much more.
Once signed up you will never miss out on being informed of your child's learning as Parent Portal sends all registered users a weekly digest email.
An example Parent Portal layout and a summary of its main features can be seen below: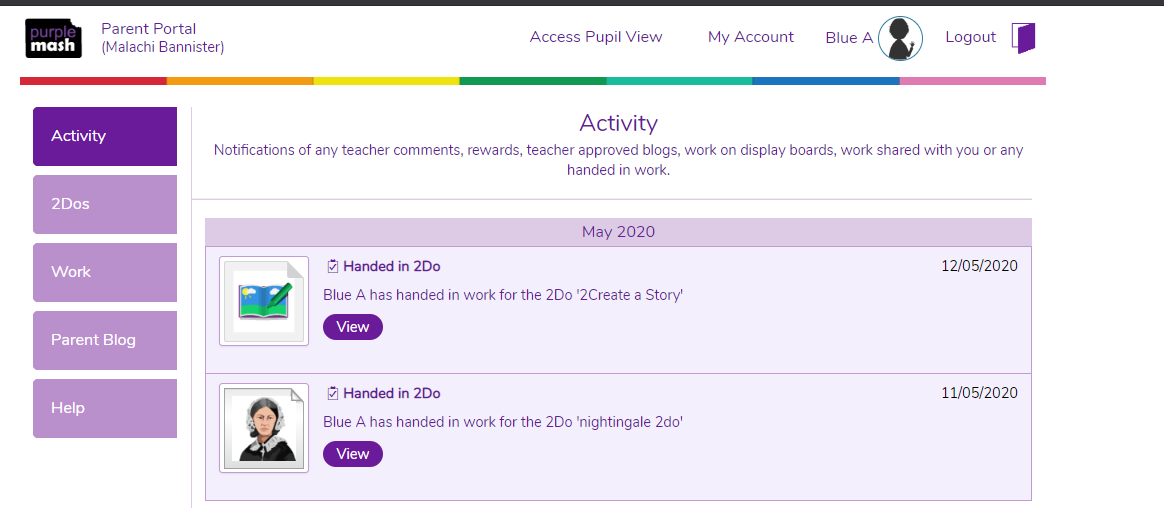 Activity

The Activity Stream shows all the activities associated with a child, with most recent showing first and organised by month. Activity Stream shows: 2Dos set and handed in, approved work for display boards or blogs, rewards given, shared work and commented work.

2Dos

The 2Dos tab enables parents to see any work 'set' or 'In Progress' as well as any 2Dos 'Handed in'. Parents can click on the 'Handed In' tab and view comments and rewards given for individual pieces of work. Additionally, they can delve deeper and look at an individual piece of work.

Work

Any work that a teacher has commented on will appear here as well as any work that a child has wished to share with their parent. This will include work outside of 2Dos.

Parent Blog

The Parent Blog provides additional help and support for Parents of pupils using Purple Mash. It also provides guides and ideas for how parents can best use Purple Mash to help with their child's learning.

Help

This section contains a useful 'Welcome' video and 'How to' video for parents.

My Account

You can update your details here and choose to opt in or out of 'Weekly Digest Emails'.

Weekly Digest Emails provide you with a breakdown of activities your child/children have been involved in. These emails are sent to the email address used to register for Parent Portal.

Access Pupil View

If enabled by the school, you will be able to access the pupils account without needing the pupils password if you click the Access Pupil View button on the top of the Parent Portal page.

Access Pupil View is a useful way to access the pupils account if they have lost their username and password.
---
---