Can I add my own images to the Clip Art bins in Purple Mash?
You certainly can add images to Clip Art bins in publishing projects across 2Publish and 2Publish Plus.
You can then save this and set your customised template as a 2do for your pupils.
In this example we will look at adding images into the Blank Leaflet template in 2Publish Plus, however you can do this in any publishing template as long as it has a Clip Art bin. (If not, you can always add a Clip Art bin in teacher mode).
You will need to log into Purple Mash on a teacher or administrator account, and then follow the nine steps below.
Go to Tools, then 2Publish Plus and open up the Blank Leaflet template.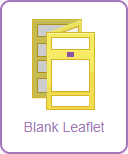 Click on Teacher Mode on the top right, indicated by the black mortarboard icon.

Click on the Clip Art icon in the top middle of the screen to open up the Clip Art bin.

To customise the Clip Art bin, start by clicking the red X button to the right of the categories drop-down menu. (By default this will be the classroom category).

Click the red X button to the bottom right of the Clip Art bin to clear all images.
Now you can add your own images by clicking on the green + button on the bottom right of the Clip Art bin.

To choose your own images click on "Choose file" at the bottom and then "From my PC". This will allow you to browse for the images on your PC.

Repeat step 7 until you have populated the Clip Art bin with all of the images you want. You can then save the leaflet in your 'My Work' folder.

To set the customised leaflet for your class as an activity, go to your 'My Work' folder and click on the leaflet template you just saved, then click "Set 2do".

---
---